The V10 is the successor of Dyson's popular V7 and V8 cordless stick vacuums. This new model has a redesigned motor, a larger-capacity battery and a horizontal bin that's 40% larger. It costs an eye-watering $1100 – is it good enough to justify Dyson's bold move?
The V10 features in our latest stick vacuums test (results will be available soon) – it performed well enough to recommend – but we wanted to push its limits on other household messes. We hit the kitchen and garden and had a few "mishaps" including handfuls of spilt cooked rice, sugar, flour and fresh dirt.
Cleaning performance
The V10 was sweet as at cleaning up sugar, with no granules visible on our carpet after two passes. Dirt was a little tougher, but it only took an extra pass to pick it all up. Fine flour particles were our hardest mess but, as with dirt, it only took three passes to leave no trace of the spill.
When vacuuming up cooked rice, I was worried the grains would get squashed into the carpet by the cleaning head, but this didn't happen. While the odd grain was left in the head, a quick shake dislodged it, and another pass sucked it up.
We also trialled it against the bane of vacuum cleaners – long hair. How much gets stuck in the power head, and can it easily be cleared? Unsurprisingly, there was a decent amount of hair tangled around the brush bar, but it was quick to remove the bar and cut the hair away.
Ease of use
We also sent the V10 home with two Consumer staff members who usually use corded vacuum cleaners. They quickly became converts, loving the V10's versatility. Though they both found it a struggle getting into corners with the standard power head, the supplied edging tool attachment made light work of these tight areas.
The V10 comes with a wall mount for easy storage. It has a slot for the power cable, so it can charge when docked. You can also store attachments in the wall mount – but there's only room for two, so you'll have to pick your favourites.
The V10 handles nicely and manoeuvring it around furniture was a breeze. It's well-balanced, with the motor and battery by the handle countering the weight of the head at the other end. It's also not heavy for a stick vac (2.6kg).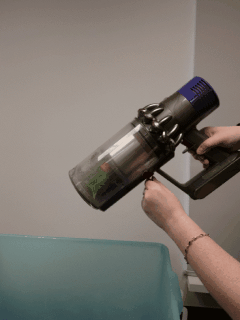 Because the V10 has a horizontal bin (unlike the vertical one in the V7 and V8), you need to remove the wand to empty it. However, emptying it was fun. The dustbin opens by pushing a lever along the canister towards the rubbish bin – just point and shoot.
The V10 is available as two variations: the Animal and the Absolute+. They're both the same machine, but the Absolute+ comes with more attachments.
So are stick vacs ready to take over from larger corded vacuum cleaners? It depends. While our staff loved the V10 and our testing shows it's very good at cleaning, similar in performance to the V7 and V8, like all stick vacs it's held back by limited battery life and small dustbin. While it could easily replace a corded vacuum in smaller households, it's still not ideal for larger ones. You just can't clean the whole house in one go. And at $1100, it's expensive, especially when you could buy two recommended corded vacuums for the same price.
Specs: Absolute+
Price: $1099
Claimed runtime: up to 60 minutes (on lowest power setting with non-motorised head)
Claimed charge time: 3.5 hours
Bin size: 0.76L
Measured running time: 8 minutes
Attachments:
Direct drive cleaner head

Soft roller cleaner head (for hard floors)

Mini motorised tool

Mini soft dusting brush

Combination tool

Crevice tool

Flexi crevice tool

Extension hose

Accessory storage bag

Specs: Animal
Price: $999
Claimed runtime: up to 60 minutes (on lowest power setting with non-motorised head)
Claimed charge time: 3.5 hours
Bin size: 0.76L
Attachments:
Direct drive cleaner head

Mini soft dusting brush

Combination tool

Mini motorised tool

Crevice tool

First Looks are trials of new and interesting products from the perspective of our product experts. Our lab-based tests offer truly objective product comparisons.
The V10 was loaned to the writer by Dyson.

By Erin Bennett
Technical Writer